Welcome to Ayia Napa Aquaduct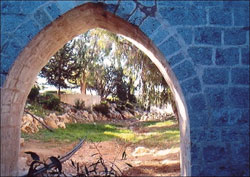 One of the most important monuments preserved within the boundaries of the Agia Napa municipality is the aqueduct, which for hundreds of years supplied with water the monastery and the whole region. Archaeological remains found west of the monastery, in the vicinity of the Agia Thekla chapel, but in particular at the locality of Filina, provide evidence for the presence of an earlier aqueduct dating to the Roman period.

The monument in its present state of preservation is a alteration of the original Roman aqueduct, occurred during the Frankish period when the monastery was build. The source of the water is to be found somewhere on the hills between Agia Napa and Protaras. Up to the year 1974 the original visible route of the channel was marked by a barrel-shaped structure at the locality of Mana tou Nerou, known by traditionally as the House of the Greeks.

From that point the aqueduct ran all the way to the monastery following the natural contours of the bedrock. The builders exploited the principles of gravity in order to deliver water to the Monastery. At two locations, along its route, monolithic troughs incorporated in the channel were acting as settling chambers in order to collect heavy impurities. At the same time these intercepting chambers facilitated the smooth running of water at the start of each courve.